Matinée@Galerie Olymp: Chopin's Travels and Music, Vienna-Stuttgart-Paris 1830-1835
vernissage
Event Theme | A Tale of Three Cities: Chopin's Travel and Music, Vienna-Stuttgart-Paris, 1830-1835
Duration
January 8, 2023 | Sunday | 14:00
At the beginning of the new year in 2023, Galerie Olymp will launch a monthly weekend daytime saloon Matinée@Galerie Olymp that focuses on music and art. We will be committed to creating a series of small-scale music lectures, talks, and concerts with unique themes, providing audiences with an academic, topical, and participatory music platform. We are very honored to invite Dr. Zhao Xinyun, a scholar who specializes in historical musicology and has been engaged in the study of Western Baroque music in Germany for a long time, and Dr. Yang Yi'an, a senior writer of classical music, to be responsible for the planning and hosting of the show, and will be in the next In the series of activities, top musicians who are currently active on the stage are invited to participate in talks and performances, so stay tuned!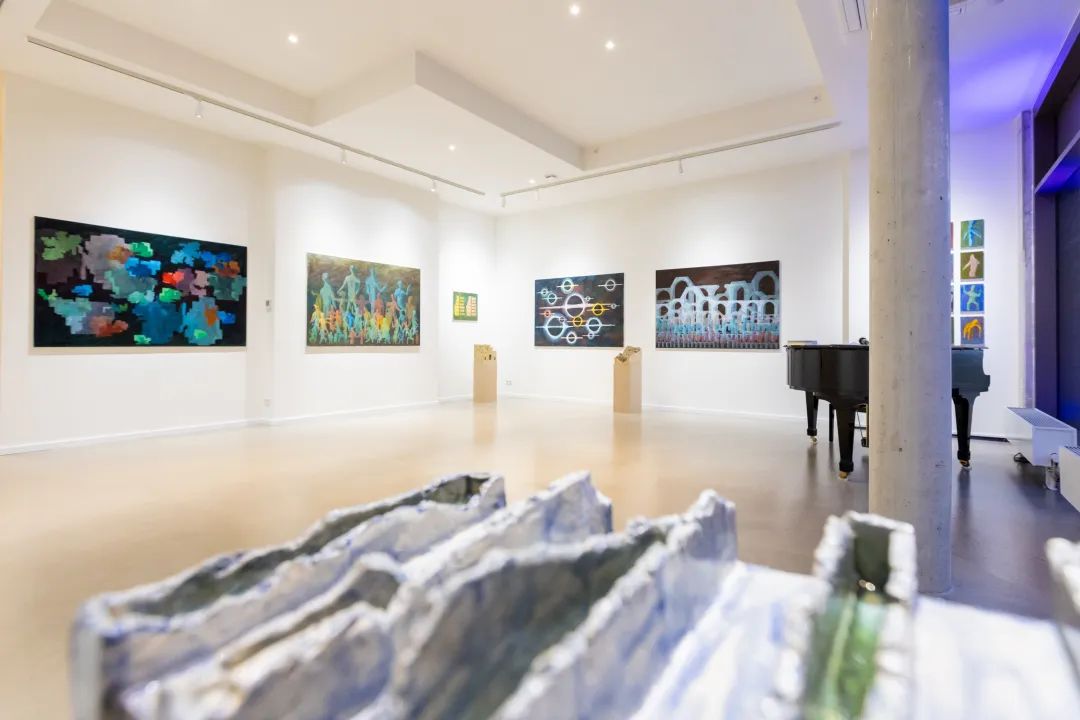 Galerie Olymp Current Exhibition: Yu Peng 【Odyssey of Light】
The word Matinée means "day performance", derived from the French matin (morning). The term broadly refers to all kinds of performances and events that take place during the day in theaters, concert halls, cinemas, and even salons, as opposed to "soirée" (evening, "evening") in French. Different from the form of evening concerts, Matinée held during the day is not limited to music performances, but also includes discussions on artistic works and creative ideas.
The first recorded Matinée appeared on Broadway in New York on Christmas Day 1843, when William Mitchell, a theater manager from England, organized a daytime show to take advantage of the Olympia Theater he vacated during the day. Seventy years later, three mountaineers, Christos Kakkalos, Frédéric Boissonas, and Daniel Baud Bovy, climbed Mytikas, the highest point of the Olymp Mountains for the first time. Another 110 years later, we have the first event of Matinée @Galerie Olymp in Berlin, as if a wonderful meeting with history.
---
Matinée @ Galerie Olymp  : Dedicated to Chopin
One hundred and ninety years ago, in a winter as cold as this year, a thin young man stepped onto the stage of the Pleyel Concert Hall in Paris and opened the piano cover lightly. For him, the past two years have been a nightmare that he cannot wake up from: he lost his homeland in the war and had to travel around in various European countries, living a life of no fixed place and always worrying about the expiration of his visa. He hopes that this hard-won performance opportunity, which has been postponed again and again, can help him end his long wanderings and start a new and stable life in Paris.
Amidst his preoccupation, he struck the first chord of the Concerto in E minor, which was his work two years ago and was completed when he was about to leave his hometown. For this young man who was constantly worrying about his own livelihood, it might be hard to imagine that there would be a day in the future when all the concert halls in this city would repeatedly perform this concerto he played and almost every song he had ever written. Work and his name will also become one of the most glorious words in this concert hall, and even in the city of Paris.
         Portrait of Chopin (1836), watercolor by Maria Wodzińska, Chopin's fiancé at the time
---
However, what seemed impossible has finally become a reality. The name of this young man – Frédéric François Chopin – has long since become synonymous with the poetry and beauty of music in our time. Paris regards this genius as his own, and his hometown Warsaw regards him as the embodiment of the Polish spirit. And every city he passed by during his two years of wandering has now set up a commemorative nameplate in the place where he stayed and regards his visit as his own glory.
The name Chopin is naturally very familiar to today's music lovers, but there are still many things worth pondering about the life and art behind this surname, as well as the reproduction of Chopin's music by later generations. We dedicate Matinee @ Galerie Olymp's first music lecture event to this great musician, and we will walk into the most turbulent period of Chopin's life with all guests, and follow him through various cities in Europe from 1830 to 1835 In time, witness his genius blossom and bear fruit. We will also travel together between Chopin's 19th century and the "golden age" of piano art, and appreciate how the great pianists a century ago speculated on Chopin's works spiritually and turned this aesthetic into Singing at your fingertips.
---
Matinée @ Galerie Olymp  Planner & Host
The planner, Dr. Zhao Xinyun, once studied in the Musicology Department of the China Conservatory of Music. After obtaining a Bachelor of Arts and a Master's degree, she went to Germany for further studies and studied for a Doctor of Philosophy at the Institute of Musicology of the University of Cologne in Germany. The research direction includes the music creation of composers such as Grieg and JS Bach. During the doctoral period, he mainly engaged in the research of Western Baroque music. The title of the doctoral thesis submitted was "Theoretical Analysis of Creation Motives and Stages of Bach's Keyboard Concerto Arrangements". In addition to research, Zhao Xinyun has been engaged in writing and interviewing classical music for a long time. She has written for the journals of the National Center for the Performing Arts, the journal of the Shanghai Symphony Orchestra, and Olive Classics. She has interviewed the famous German sinologist and music theorist Heinrich Geiger, Young cellist Zhu Beiliang, American ethnomusicologist Bruno Nettl, and others.
The writer and speaker of this music event are Dr. Yang Yi'an. He studied at Fudan University and the National University of Singapore successively, and after receiving a Ph.D., he engaged in scientific research at the University of Marseille-Aix in France and the Free University of Berlin in Germany. At the same time, as a senior writer in the field, Yang Yian once translated the biography of Russian pianist Lev Oberlin, and published it serially in the journal "Piano Art", and also contributed to music journals and platforms such as Shanghai Symphony Orchestra Journal and Olive Classic writing. He has unique insights into the fields of record version research, piano, chamber music, and Bach's instrumental works.
---
Matinée @ Galerie Olymp sincerely invites you to participate in the Music Salon on January 8, 2023. We look forward to gathering with music and art lovers and sharing the beauty of music and history through free exchanges and discussions. Refreshments are available at the event site. Space is limited. To register, please click  : 
Join the WeChat group Matinée @ Galerie Olymp, don't miss out!
---
Event Theme | A Tale of Three Cities: Chopin's Travel and Music, Vienna-Stuttgart-Paris, 1830-1835
Activity Time | January 8, 2023 | Sunday | 14:00
Event Address | Otto-Weidt-Platz 8 | 10557 Berlin